CHOOSING A CHALET TO RENT IN TIGNES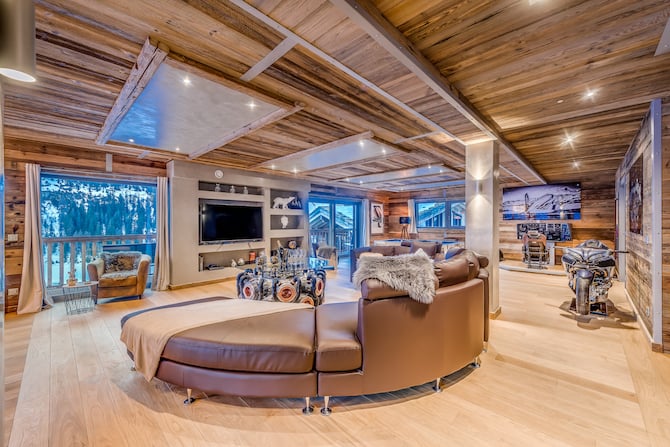 So! It's time to plan your next holiday in the mountains! Are you looking for relaxation or sport? With family or friends? Whatever your preferences, we're sure you'll find something to suit among our selection of the best chalets for your vacation rental in Tignes.
Chalet Ubud for a relaxing holiday in Tignes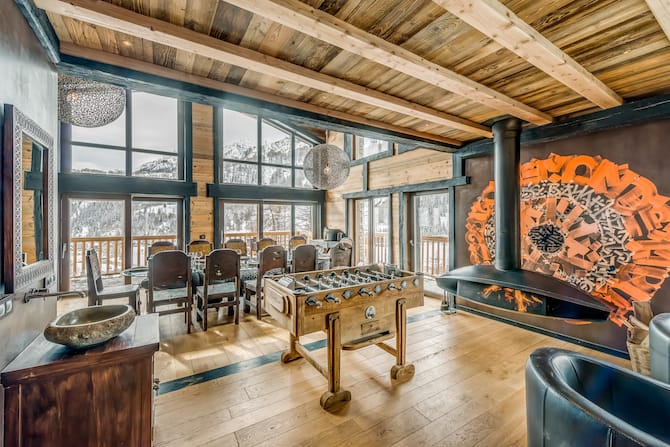 Available to rent in Tignes, Chalet Ubud will wrap you up in a cocoon of zen comfort in the heart of the mountains. Its Balinese decor provides a soothing atmosphere, so that you can relax and fully enjoy your well-deserved holiday in Tignes.
Settle down in your private jacuzzi on the terrace and unwind as you take in the view of the sunny mountains. Feel like a massage? Not a problem – your chalet's butler will take care of the booking for you. You will – literally – be in the best hands and on your way to total relaxation.
Raven for a sporty break in the mountains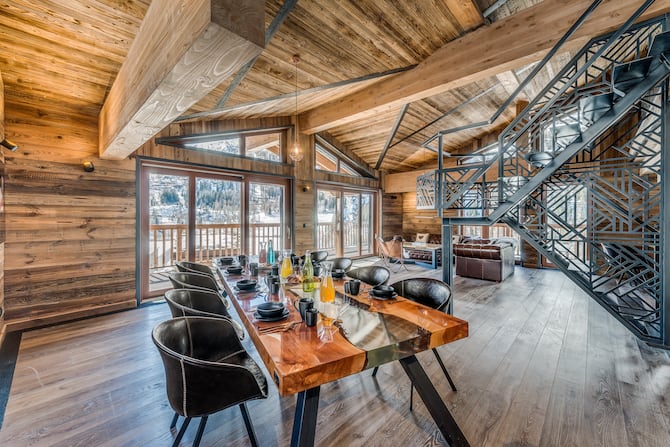 Chalet Raven's colourful street-art inspired decor will give you lots of positive energy for your winter sports break in Tignes. Test your endurance in the pool, tone those deep muscles in your own private yoga studio, or dance till you drop thanks to your built-in sound system. Renting Chalet Raven also means you have the ideal starting point for your day's hiking, skiing or water sports in Tignes.
Need more information about available activities? Your chalet's butler will give you personalised advice so you can make the most of your stay in Tignes.
Rock'N'Love for fun with friends in Tignes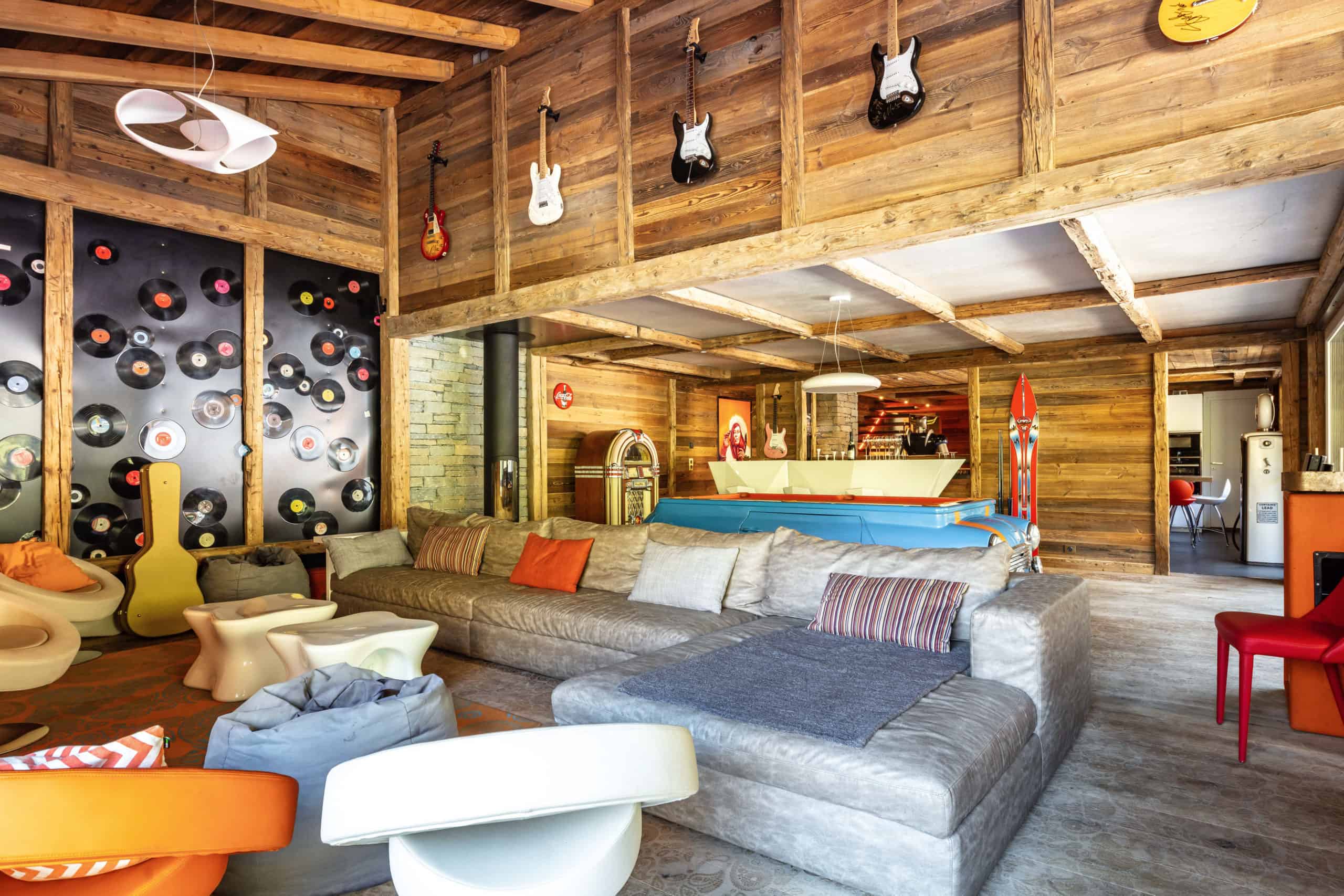 Are you looking for 'Good vibrations' like the Beach Boys? Or do you want to 'Twist and Shout' like the Beatles? Whatever your taste in music, we're sure you'll 'Get your kicks on route 66' when you rent Chalet Rock'N'Love in Tignes. And you'll love its highly original 60s/rock theme.
On the music front, there's everything you need: grab a guitar and strum a tune or two by the fireside, or pick out your favourites on the jukebox and 'Rock the Night Away'. Chalet Rock' N'Love also gives you the chance to enjoy the best in private relaxation facilities 'With a little help from (your) friends', thanks to its sauna, hammam, swimming pool and hydro jet massage bed.
Alternatively, you can challenge your friends to a few frames of pool on the table made from Mini Cooper, or see who can beat Tom Cruise at making cocktails behind your chalet's bar. Looking to organise some group activities in Tignes? Your chalet's butler can suggest and book the best activities for you and your friends to enjoy.
Chalet Tango for a family holiday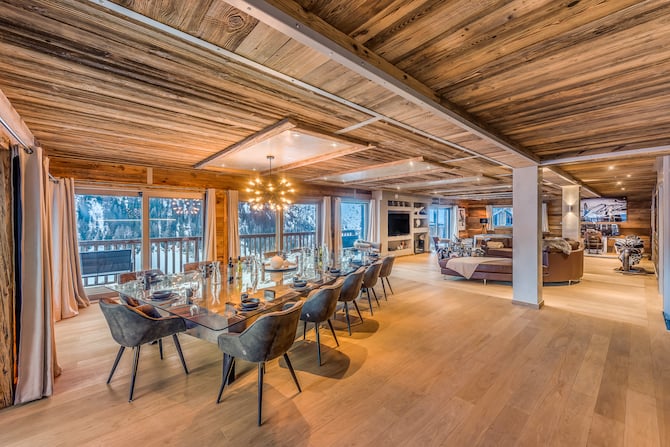 The « aircraft » decor at Chalet Tango will amaze young and old alike. While the adults can enjoy dining on a table made from an aeroplane wing, the children will be thrilled with their "Air Force One" bedroom complete with slide, then shower in their bathroom, built in a real plane.
You will share unforgettable family moments in this chalet playing table football, pool or table tennis. Want to organise family outings in Tignes? Your chalet's butler will take care of it, with activities that are guaranteed to delight the whole family.
Choose one to suit you among our rental chalets in Tignes. Feel free to get in touch with one of our advisors!